Jessie Kahnweiler had a tough sell: a short satirical comedy about rape. Wait, wait, wait – hear us out.
Years ago, in her college years, Jessie was raped. For more than half a decade she'd been trying to tell herself she was okay. Outwardly, that's what she told people. But that creeping sensation, the kind where deep down something is dreadfully wrong, it was only a matter of time before it gurgled back up.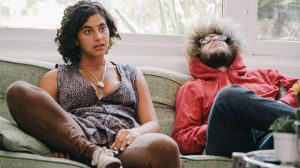 But Jessie has kind of did the impossible. She's a talented, intelligent, filmmaker with a wicked sense of a humor. So guess what? Her film is really, really funny.
This episode is the story behind the story, but if you've yet to watch Meet My Rapist, you'll find it embedded right here on thelapse.org. It was a selection at the 2014 Slamdance Film Festival. You'd be missing something special if you skipped it.
Want to hear the full, unedited interview? Keep The Lapse alive on Patreon. We're a mere $65 from our goal as of this writing and we've got a whack of fun stuff if you do.
Download Meet My Rapist NOW on iTunes, Stitcher, or stream it at the link below.
Podcast: Download
Subscribe! Apple Podcasts | Android | Google Play | Stitcher | TuneIn | RSS | More