The classic magician is a dying breed. Christopher James Schuh represents a sect of dreamers bent on keeping that tradition alive. Not a relic of vaudevillian past or some Criss Angel special still haunting Spike TV. I've seen the man float a table across the room with nary a wire in sight. He's good. Real good.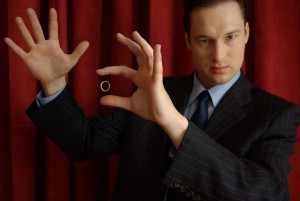 If watching the illusion is fascinating, so too is getting a glimpse behind the curtain. This episode is for the kid in all of you. It's wonder. It's whimsy. It's Some Kinda Magic.
For more on Christopher James Schuh, including tour info, videos, and pictures of the table trick in action, be sure to check out his site.
Exciting stuff! We've recorded our very first international story with more to come. Busy, busy, busy but keep sending those pitches. Not good story will be turned away. And if you want to contribute to the show from behind the scenes, you can get details here. Looking for story curators, interviewers, and sound people, people!
Download "Some Kinda Magic" on iTunes HERE!
Podcast: Download
Subscribe! Apple Podcasts | Android | Google Play | Stitcher | TuneIn | RSS | More